Accell Clean Australia
The ONLY true environmentally safe all purpose cleaner
Clean Freak is the cleaning product arm of World Environmental Technologies. Our aim is to make a positive difference to the world we live in so that our children can enjoy the World we leave them.
Accell Clean is safe for you, your pets and the environment. 100% all the way!
Accell Clean is safe on every surface.
Accell Clean cleans deeper and better on more surfaces than any other single product.
Accell Clean is fantastic value- saving you money.
Accell Clean has does not contain Fragrance, Colour, Solvents, Alcohols, Esters, Enzymes, KOH or pH alterations.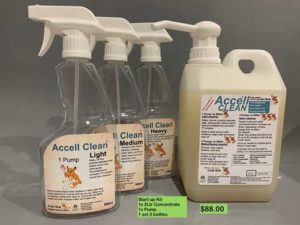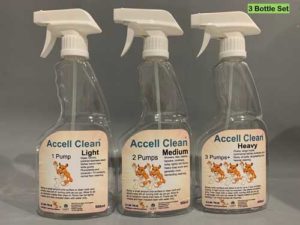 The complete start up kit. This gives you:
3 x 500ml spray bottles.
A 2lt Accell Clean concentrate and
An easy to use 30ml measure pump.
Mixing your cleaner is easy – Just add water to:
1 Pump to a bottle is light duty cleaner
2 pumps is medium and
3 (or more) is heavy duty.
Spray bottle set. These are supplied empty and are labelled with instructions.
The replacement 2 ltr concentrate will give you 67 pumps. This is equal to 67 light /general cleaner.
Do not over mix- Stronger is not better- Accell Clean works with a entirely new technology.
For the the technical ones:…
Accell Clean does not rely on pH (Acid or Caustic) for its cleaning power. Accell Clean is a new generation of "Protein-Surfactant Complex, or PSC" These actively function to energize surfactant efficiencies. Accell call this Protein-Surfactant Synergists (P-SS™)
This makes it work more efficiently than most cleaners. Rather than merely dislodging contaminants to be transferred elsewhere, the P-SS™ cleaners facilitate the biodegradation of organic materials, such as biofilms, oils, greases and various stains, providing benefits that no other cleaner or degreaser can claim.
****PRE-RELEASE SPECIAL****
We are offering these prices for a limited time.
Introduction stock is limited.
Who are we and What is Accell Clean?
Clean Freak is the cleaning products division of World Environmental Technologies. All of our products are ZERO HARM. Zero harm to the environment, zero harm to animals and zero harm to people. We are based in Perth and pride ourselves on our positive engagement with the environment.
Accell Clean is quite simply the most efficient general purpose cleaner available. It is neutral pH and has remarkable cleaning properties. It has its beginnings during the Exxon Oil spill disaster in the Gulf of Mexico. Used extensively in the clean up of Oceans, and shore lines- to clean wildlife, beaches, ships and rocks. The cleaning capability of the product was proven to be exceptional and it carries approval for use in Oceans by the International Maritime Organisation (IMO)! A clear approval of its environmental status.
Products & Services
World Environmental Technologies are proudly the exclusive Australian Distributor for the Accell® range of products. These products bring a new generation of technology to the market. Neutral pH products that clean "cleaner and brighter" than any other "all purpose" & environmentally responsible product. Suitable for the domestic market, the hospitality sector and heavy industry. You can clean your crockery, glass, bathroom and even you oven -not to mention degrease your car engine with 1 – super cost efficient product. Sounds too good to be true? That's what we thought- but it works. Just like it states. Have an online search and get bitten by the Clean Freak. We can supply you in any quantity – Australia Wide.
We supply all markets, here is an example of our fabulous value:
Now available in Australia- Clean Freaks take notice!
Domestic packs – We have starter kits complete for $88. This gives you: 1 x 2ltr concentrate- 3 spray bottles and one measure pump.
Replacement 2 ltr concentrates are $69 and that will give you 67 bottles of lighter cleaner. That is nearly a years supply of cleaning products.
Accell Clean will replace up to 15 different cleaning products, from glass cleaner, surface cleaners, bathroom, tile, toilet, oven, floor (both hard and soft) fabric spotter, dish washer liquid, car wash, car interior cleaner, degreaser ~ In fact it really is all you will need. Saving huge cost, space and simple to use.